Welcome to Cat & Bow, the place to find affordable, hand-crafted Baroque violin bows.
Heidi Erbrich, a professional early musician, offers a selection of different hand made bows from her workshop in Spain.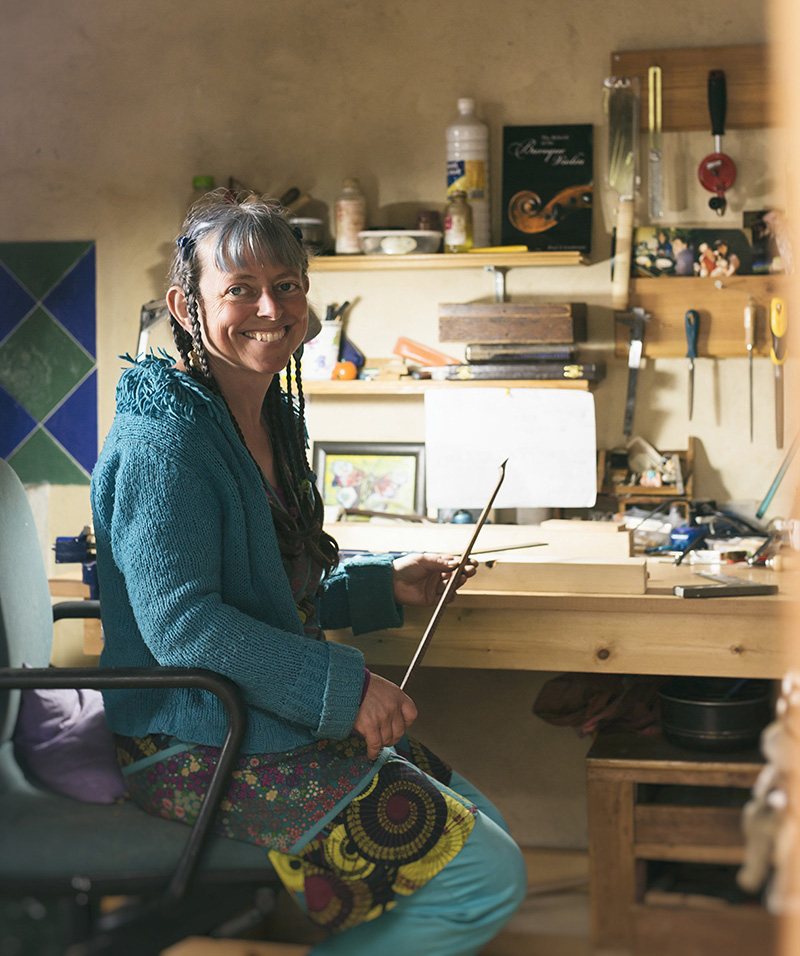 I started making Baroque violin bows as a natural development from my profession as a Baroque violinist. I came into contact with bow making in the summer of 2012, when I decided to follow a Baroque bow making course with the French bow maker André Alegre in Valencia.
I became so passionate about making bows that I immediately set up a workshop at my home and set to work learning this specialist profession, with guidance and tutoring from the fine bow maker Basil de Visser in Amsterdam.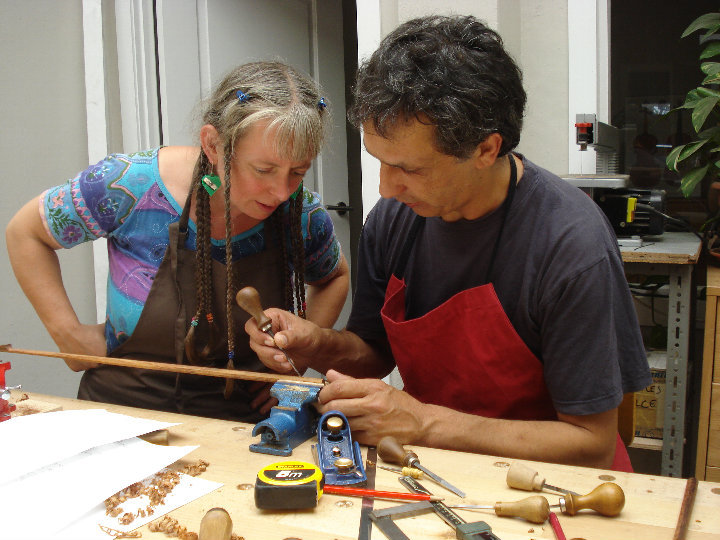 Learning the craft with André Alegre
Being a professional player myself, I decided to make the bows that I personally enjoy playing. My great love of 17th century music (composers such as Castello, Fontana and Pandolfi) led me to a very light, agile model, which some people even use for later repertoire. My personal choice for 18th century music is a different model of bow, one which is also light, clear and articulate. I always look for a warm sound in whatever bow I make.
These bows are not the standard, "hybrid" type Chinese bows. They are very much a personal choice/ expression – the Baroque violin bows that I enjoy playing and that I feel work best for the music. Because the hand made bows are very affordable, they make a good choice for amateurs and professionals wanting to experiment with playing a Baroque violin bow.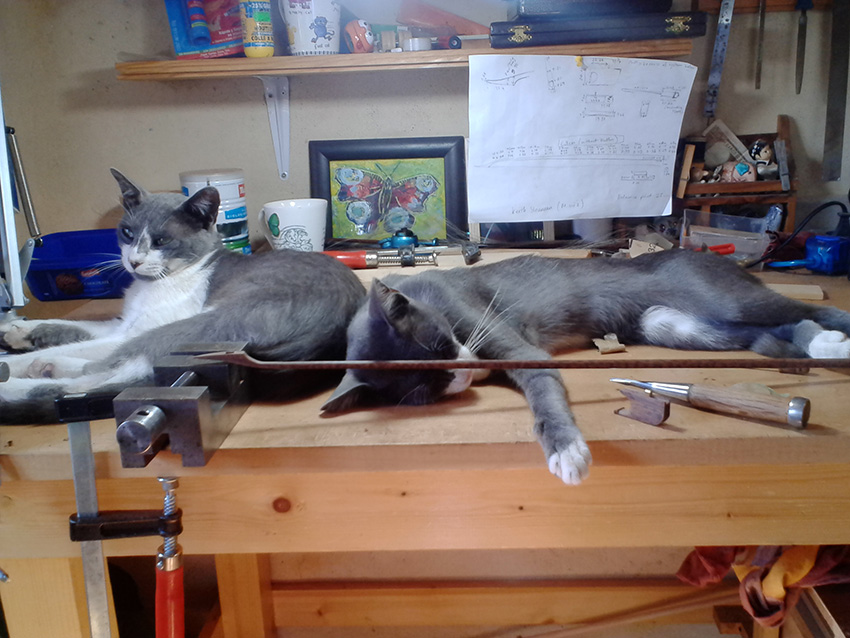 The name Cat & Bow arose naturally due to the many visits I receive in my workshop from our numerous cats (10 in total). They are not only curious, but totally make themselves at home… a sort of passive sabotage!
Early baroque bow with a clip-in frog.
It is suitable for early Italian music and Biber but also works well for Purcell and French 17th-century music.
The stick is made from snakewood and the frog can either be made from ebony or snakewood. The length is 64 cm and it is approximately 36-39 grams.



Early 18th century violin bow with screw mechanism. Good for playing Handel, Bach etc.
Bow, frog and button are all made from snakewood.
Length is 68 cm and weight is approx. 49-51 grams.


Mid-baroque viola bow. With screw or clip-in frog. Made from snake wood. Length 72cm. Weight +/-57-61g

Late baroque viola bow, loosely based on the Thomas Smith bow in the Ashmolean museum. Made from snakewood. Length 73cm. Weight 60-64g.

More than two months ago, I received my mid-baroque viola bow from your workshop, and I have used it daily since then. It is an absolute delight. The craftsmanship is exactly right, especially the weight and balance. It draws a warm, round tone from my modern viola with synthetic strings and even better from my copy of a baroque tenor viola with gut strings. The technical demands of the repertoire feel completely natural with your bow, especially playing off the string and bow retakes. The bow is lively, smooth, and always responsive. I am grateful to you every time I open my case. A thousand thanks.
I have a baroque bow from Heidi, the early 18th century model, and I have been delighted with it from the first moment I tried it. It is a light bow and very comfortable to play. It produces an intense, beautiful and stable sound throughout the stroke, even when playing very slow bows. It adapts very well to different bow strokes and playing double strings with it is really a treat. A great result at a very good price.
I have been playing with an early baroque bow, made by Heidi, for three years now, and I am very pleased with it. The bow is perfect for 17th century music, especially French music, either with an Italian or French bow hold. It has a very quick and direct response and is very stable, which allows it to create a very compact tone, even with slow bows. In fast passages it grips the string very well, which results in a very clear articulation. The bow is very light and has a fine finish. The quality-price relationship is really good. In the following video link I am playing with the aforementioned bow.
I have a 18th century bow from Heidi for my viola. Although I always thought I prefer a heavy bow, I bought the lightest one of the three I tried. It pulls an incredible sound from my instrument and playing Bach will never be the same, no more hard work on the bowing. The bows are very decently priced and thus also affordable for non-professional musicians like me
After playing the violin professionally for more than 25 years, I decided to take up the baroque violin –  just for fun. It was difficult to know where to find a decent baroque bow. Luckily someone suggested I try the bows made by Heidi Erbrich, and I'm glad I did. The bow I purchased is beautifully crafted, has a wonderful sound and was reasonably priced. It even sounds great on my modern fiddle!
I have two bows from Heidi and I am very happy with them. One is a short light bow, for early Baroque/17th century music that is very agile and easy for fast passages, but one can also produce a beautiful legato with it.
The other is a bow from around the first half of the 18th century , a "sonata-bow" type. It is longer, but feels just as supple, light and stable and with a very fine feeling of balance. I am therefore very happy with both bows!
My violin sounds lovely with your bow (early baroque bow), it feels like I can do anything I want with it. This bow felt like being friends forever. It plays smooth as well as firm (sometimes I put a little paper between frog and hair depending on the piece and the necessity of more stiffness). The bow gives me an opportunity to get in touch with the violin. It gets into the string well but is also light.
Whilst practising a Pandolfi sonata I got three new bows, made by Heidi Erbrich, just to try. They were much lighter and shorter than the bow I used to play with. What a difference…. I could play with much more ease, the 'gruppo's' etc. sounded wonderful…..I could play as a singer!
I chose one of Heidi's bows. Through the lightness and quality of the bow my arm and the bow are one!